The racquet court has opened for Solo use only.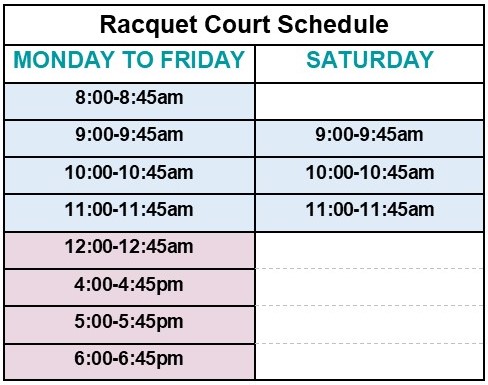 For more information about what is open at Western Financial Place click here.
For squash usage information click here.
For Squash rules during COVID click here.
How to make reservations
All court times are by reservation only.
- Phone 9am-4pm, Monday to Friday: call 311, option 2 for Recreation & Culture, and then option 3 for court bookings. Please leave a message if we are unable to get to the phone right away.
- Online: at westernfinancialplace.ca, the login tab is in the top bar on the right. BEFORE REGISTERING ONLINE for the first time please call our office. Players who have had a membership in the past already have an account.
Cancellations: If you need to cancel your court booking please call asap and leave a message. Court time is limited and others may be on a waitlist.
Welcome to the Western Financial Place - Racquet Court. This court is convertible between squash, racquetball and wallyball and is a public facility available for scheduled bookings and drop-in play.

Grab a playing partner or create a wallyball team and enjoy one of these great ways to have fun, improve your fitness and socialize with your friends.
Yearly pass holders enjoy almost unlimited play and can make advance bookings. This allows pass holders to set up weekly games with their playing partners.
Non-pass holders can make three-day advance booking.
Court bookings include access to the aquatic centre facilities during the aquatic centres operational hours.
Court bookings can be made over the phone by contacting the Leisure Services Office at (250) 489-0220. Court Fees are due when making a booking. Payment can be made via credit card, pre-purchased passes or by payment at the Community Services Office. Prices include GST.

Booking Prices

| | |
| --- | --- |
| | Fees |
| Child (3-12 yrs) | $3.45 |
| Youth (13-18 yrs) Senior (60+ yrs) | $5.85 |
| Adult (19+ yrs) | $8.50 |
| Ten Ticket Child | $30.70 |
| Ten Ticket Youth/Senior | $52.50 |
| Ten Ticket Adult | $76.40 |
| Yearly Child | $190.70 |
| Yearly Youth/Senior | $317.90 |
| Yearly Adult | $439.70 |
| Yearly Family** | $766.00 |
| Yearly Adult Court & Aquatic | $646.30 |
| Yearly Family* Court & Aquatic | $1163.40 |
| Racquet Equipment Rental | $2.65 |
| Court bookings(wallyball) | $34.90 |

**Family is classified as immediate only, max 4 people.